Hoghton Tower was the magnificent wedding venue for this fabulous Spring wedding.
Claire and Richard live in London and had tasked Claire's Parents to arrange a lot of the wedding on their behalf. After an initial meeting with them I was asked if Claire and Richard could meet me so they could also view our stunning wedding books. Shortly afterwards I received an email saying, "we would love to have you photograph our wedding day! So please book us in!"
As part of their wedding photography package Claire & Richard loved the idea of an Engagement Shoot at Hoghton Tower which was the perfect opportunity to explore the vast grounds together.
The wedding day was an absolute blast from the very beginning. Claire had decided to get ready with her Family and Bridesmaids at her Mum & Dad's house. Everyone was very relaxed and this carried on throughout the day, there was a real party atmosphere. Here are a few of our favourite images from their magnificent Hoghton Tower Wedding!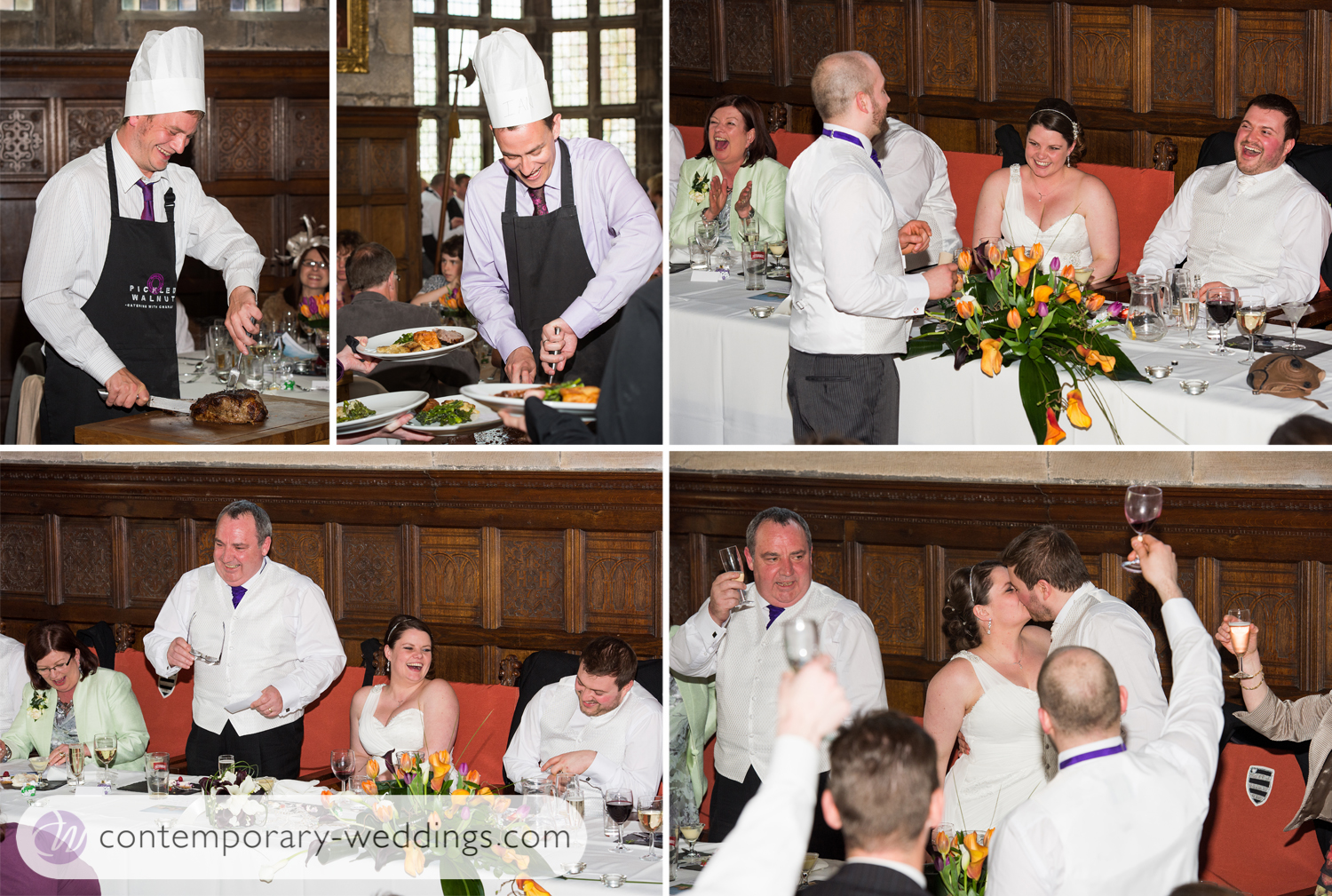 I often get asked for information regarding the wedding professionals booked for the day. Claire and Richard have very kindly supplied the following information which may help you plan your own perfect wedding day!
Wedding Venue - Hoghton Tower (as you know!)
Wedding Photographer - the very awesome David Millington (Claire's words) :-)
Wedding Shoes - Sakura Ivory from Harriet Wilde, now dyed a fab shade of Cadbury purple :)
Bridal Headpiece / Earrings - borrowed from Sarah the bridesmaid, she bought them from Glitzy Secrets.
Suits - all the guys' suits were hired from Slaters in Preston.
Flowers & Bridal Bouquets - Margaret at Gilded Lily.
Wedding Breakfast - from Pickled Walnut - who also supplied their cool cake of cheese and chair covers. Booze was supplied by Hoghton Tower in partnership with the Pickled Walnut.
Wedding Night Accommodation - The Millstone at Mellor. Claire & Richard were able to book out the majority of the hotel and they kept the bar open as long as they wanted so had a good gathering for an after party!
String Quartet - cool string versions of rock songs - SP String Quartet.
Wedding Rings - organised through a trade contact in Hatton Gardens.
Honeymoon - a fantastic four week trip through China, Hong Kong and Borneo!